Best Google Ads Account Structure for Campaign Success
If you have been asking yourself, 'How do I structure my Google account?', you have come to the right place.
A lot of eCommerce entrepreneurs struggle with knowing the 'right' way to structure their Google Ads account to ensure success across all campaigns and that they are set up for better optimization and getting the best ROAS. In fact, we are asked this quite a lot by new and established store owners and therefore decided to lay out all the steps here to get you set up right in no time!
Creating a good Google Ads account structure should be done in stages, much like you would follow a recipe for baking a cake. Starting with a strong foundation at your campaign level, and then getting into more detail at your Ad Group, and finishing off with the cherry on top, your ads.
In this week's new guide, we will take you through all four stages you need to follow to ensure your Google Ads account structure is baked to perfection - I.e. Set up for success!
Stage 1: Campaign Level
Stage 2: Ad Group Level
Stage 3: Keyword Selection
Stage 4: Ad Copy
Newbie Tip: If you are brand new to Google Ads and this is your first campaign, we suggest visiting our Full Google Ads for eCommerce guide first.
Let's dive in!
Google Ads Structure Stage 1: Campaign Level
Google Ads Account
Campaign 1
Campaign 2
The first stage in creating the best Google Ads structure for success happens at the campaign-level. Think of it as laying the foundation for all your Google Ads, or to use the recipe analogy, creating a good cake base before you ice and decorate.
There are three essential steps that happen at the campaign-level of your Google Ads structure, and that is setting your campaign goal, type, and preferences. Let's look at each.
Step 1: Set Your Campaign Goal
As you may know, the first thing you will be asked to do is to set your goal and choose the campaign type you want to set up. Where it gets tricky is making you sure you choose the right campaign type to suit your eCommerce goals.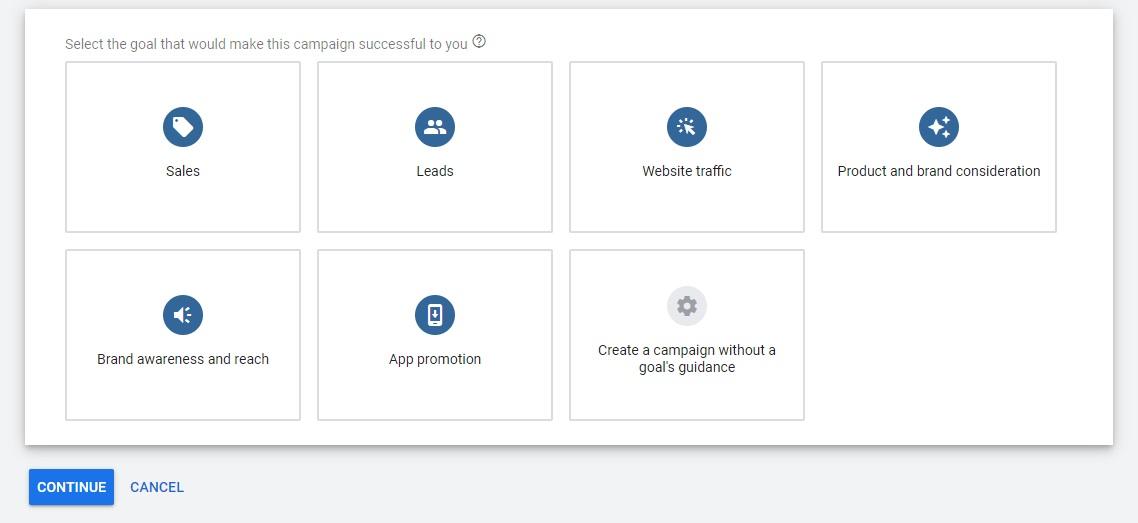 Newbie Tip: Here's a breakdown of when to choose each campaign goal, depending on your goals.
If you are looking to drive sales through Search, Display and video campaign types, then you will want to set up a 'Sale' campaign.
Choose 'Web traffic' campaign types if your main goal is sending more quality traffic (potential shoppers) to your store through Search, Display, Shopping or video campaigns.
If your main goal with the campaign is to build your brand awareness, then choose 'Brand awareness and reach.'
As the name suggests, 'Leads' campaigns are designed to help you get leads through Search, Display and video campaigns.
If your main goal is to push shoppers to explore more of your products, then you would choose 'Product and brand consideration.'
If you are newer to Google Ads, your first campaign types to set up and optimize will be 'Web traffic.' Once you have a successful stream of PPC traffic, you can start to experiment with other campaign types to match newer goals as you expand your online store business.
Step 2: Set Your Campaign Type
Once your goal is set, it is time to choose your campaign type. For newer businesses looking for more targeted traffic, you will want to start with Search and Shopping campaign types. For more established stores with bigger budgets, you can begin to add Display (for remarketing) and video campaigns to your Google Account.

Step 3: Choosing Your Campaign Settings
Next, you will need to decide on your campaign settings, depending on the campaign type you choose.
Name
Networks
Audiences
Languages
Budget and Bidding Strategies
If you are a new store, we suggest you wait with ad extensions until you have enough data. You can add sitelink extensions to eligible campaigns later by following these steps. If you are brand new to creating a Google Campaign, then visit our Google Ads Guide to help you choose the best options for all your campaign settings.
Pro Tip: Separate your campaigns into brand- and non-branded campaigns. These types of campaigns will have very different competition and, therefore, costs and will require different optimization, management, and scheduling.
--
Overall, it's important to remember that every campaign you create should have a segmented focus and theme. This ensures budgets can be easily allocated and tweaked and that you can quickly make the changes you need for better results.
Google Ads Structure Stage 2: Ad Group Creation
Google Ads Account
Campaign 1
Campaign 2
Ad Group 1 (a)
Ad Group 1 (b)
Ad Group 2 (c)
Ad Group 2 (d)
The next step in your recipe for Google Ads campaign structure is creating your Ad Groups. At the Ad Group level, you are creating a group of assets in the campaign you wish to apply a bid to. It is also where you will control and assign your keywords for all the ads within that group. Here's a simple diagram of how Google Ad Groups are home to your keywords and ads:
Ad Group 1 (a)
Keyword
Keyword
Ad 1
Keyword
Ad 2
Keyword
When creating a campaign, you will be asked to add and name your group and assign your keywords, which we will get into more detail about below.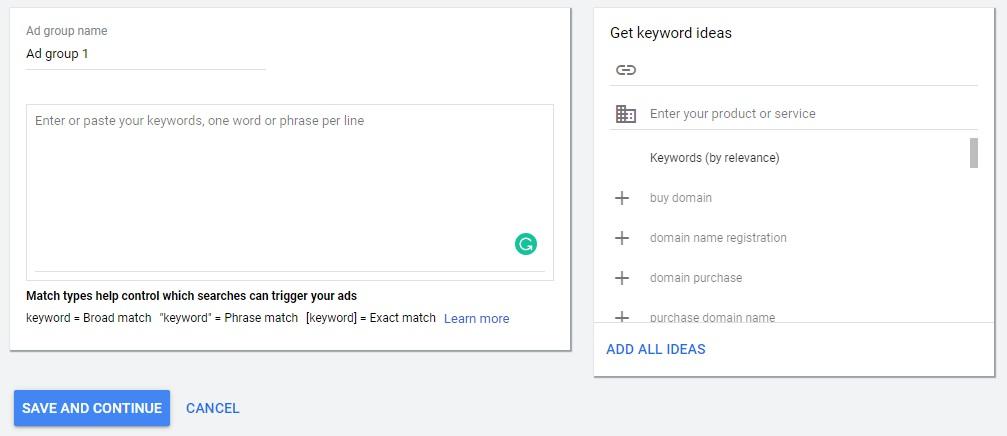 What you want to do here, to ensure you are creating a good Google Ads campaign structure, is to create your Ad Groups around product categories, sections or other smaller segments. Let's say you have started an online clothing store and are setting up a search campaign. You could create groups based on your products, like this:
| | | |
| --- | --- | --- |
| Ad Group: Dresses | Ad Group: Shorts | Ad Group: Accessories |
| Strapless | Denim | Handbags |
| Full length | Cotton | Jewelry |
| Evening | Tennis | Belts |
| Summer | Cargo | Scarfs |
| Short | Pleated | Hats |
| Winter | Bermuda | Gloves |
You want to make sure you don't include endless groups in one campaign. The idea is to create smaller campaigns with fewer ad groups. Why? Because this will not only allow for more segmented marketing, which improves conversion and ROAS chances, but makes optimization and budget tweaking much easier.
Unless you are a mega store and are a Google Ads pro, you should be aiming for a maximum of 10 Ad Groups per campaign.
Google Ads Structure Stage 3: Keyword Selection
Now let's talk keywords. Keyword selection plays a key role – if you will excuse the pun – in ensuring your Google Ads campaign structure is set up to win. Again, you want to make sure you are stuffing each of your ad groups with a million keywords. You want to keep the list small and highly segmented to boost success, as well as make it easier to remove non-performers.
Ad Group 1 (a)
Keyword
Keyword
Ad 1
Keyword
Ad 2
Keyword
You want to ensure you do your due diligence in terms of finding the right keywords for your campaigns. You want them to be highly relevant to your group and you want to keep the lists small, with no more than 20 keywords in an ad group.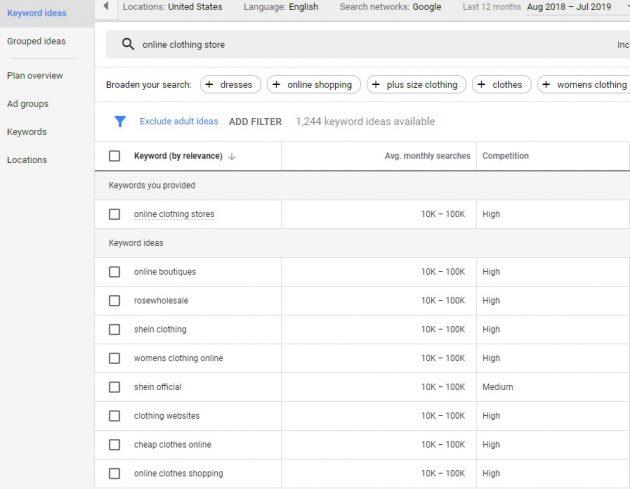 Expert Tip: Take your segmentation to the next level with single keyword ad groups, or SKAGs. This strategy involves including only one keyword in each of your ad groups. This keeps ads in this group highly targeted by matching ads to keywords precisely. This is best suited for those keywords that have a lot of competition, and, of course, involves a lot of campaign maintenance to ensure peak performance.
Don't forget to add your negative keywords! You can follow this Google step-by-step guide to adding negative keywords. Here are some other guides to help with choosing keywords:
Google Ads Structure Stage 4: Your Ads
Next, you will need to create ads for your ad groups. These include your headlines, CTAs, depictions and URL options.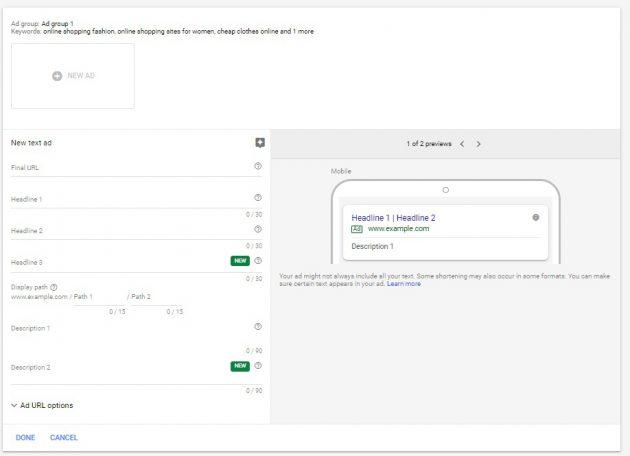 Ideally, you want to include only 2–3 ads per ad group. Your structure will now look a little something like this below and will increase as you add more campaign types to your account.
Google Ads Account
Campaign 1
Campaign 2
Ad Group 1 (a)
Ad Group 1 (b)
Ad Group 2 (a)
Ad Group 2 (b)
Keyword
Keyword
Keyword
Keyword
Keyword
Ad 1
Keyword
Ad 1
Keyword
Ad 1
Keyword
Ad 1
Keyword
Ad 2
Keyword
Ad 2
Keyword
Ad 2
Keyword
Ad 2
Keyword
Keyword
Keyword
Keyword
Remember, as with any PPC ads, you want to test every component of your ads to find the winning combination – of headlines, CTA, URLs and descriptions – that generate the best ROAS.
Conclusion
It is important that you start off small and segmented, in an organized manner, and then add more campaigns slowly. This will help you grow the PPC campaign with your business, ensure you are getting the best results for your budgets and help you optimize as your Google Account grows. You may also want to invest in tools like Traffic Booster as you grow to help you manage and optimize your campaigns for the best results, leaving you time to concentrate on other eCommerce marketing streams.
Still have questions? Here are some more guides to help you win at Google Ads:
Recommended articles