PPC vs. SEO - Which Provides Better Value?
Today we finally answer the ultimate traffic question: "SEO or PPC: which approach should be used and when? And you'll be surprised.
There is a lot of conflicting content out there. SEO companies telling us that SEO is better and PPC agencies declaring PPC the big winner. However, the question is, when is it more effective to use one over the other and how can you utilize the value of each for the best ROIs.
What is PPC?
PPC (Pay-Per-Click) is a method of advertising your eCommerce site with the goal of driving traffic to it. The most popular of these platforms are Google Ads and Facebook.
What is SEO?
SEO (Search Engine optimization) is the ongoing site optimization of your store to increase your search engine search results.
In this post, we will look at the main differences between PPC and SEO, when to use each and how you can utilize both to help your online business grow.
PPC vs SEO
Sales Conversions:
This is not a simple question to tackle without first discussing traffic. When it comes to traffic, PPC will bring you more traffic in the short term, while SEO will ensure more traffic in the long-run. However, on a whole, the conversion rate for PPC traffic is higher. This is because you are able to target these ads to specific shoppers and previous site visitors to coincide with specific times of the year, who are more likely to buy your products.
Brand Building
When it comes to brand building, SEO is a must. With the help of content marketing, SEO will ensure you appear on page one for a number of search terms, ultimately gaining you more exposure for your store brand. PPC on the other hand, will be limited to the specific keywords you are using in your campaign. However, by using Google Display Network and Facebook PPC ads, you can grow your awareness on all fronts simultaneously.
Ad Spend and ROIs
We all know that PPC has a price tag, but as discussed above, the price tag comes with immediate traffic and higher conversions. If your competitors aren't bidding for your desired keywords, the lower click-through rates will ensure you enjoy better ROIs. However, if the competition is tough, this could be costly.
While SEO as whole, if you're doing it without the cost of an agency, won't cost you anything in monetary terms. It does, however, require a lot of time and diligence. SEO is not only continuous, but the results will be long-term. If your niche is unique and you don't have a lot of competition, this process will take less time than if you are trying to breaking into an already saturated market. In that case, where organic listings are competitive, PPC will be a much cheaper option to help you climb the page to the top.
When to Use PPC
The most popular ad networks include Google Ads and Facebook Ads. As a whole PPC is a must for driving highly targeted traffic when you are looking for instantaneous results. So when is PPC a must? For Time-Sensitive Promotions When you want to get as much traction and traffic as you can from a limited offer or store promotions, PPC is a must. While SEO has a long gestation period, PPC will allow you to run campaigns for offers that expire in a few days to drive targeted traffic to your site and ultimately converting faster. For Highly Targeted Traffic PPC, unlike SEO, will allow you to target very specific online shoppers based on their demographics, buying habits, age, income and interests -- just to name a few. PPC is a powerful way to help you reach a specific group of people -- highly targeted people, who are more likely to shop. To Dominate Search Results When using search PPC campaigns, you're able to jump to the top of the search results. PPC campaigns, such as the examples below, allow you, through relevant keywords, to compete in a highly competitive market.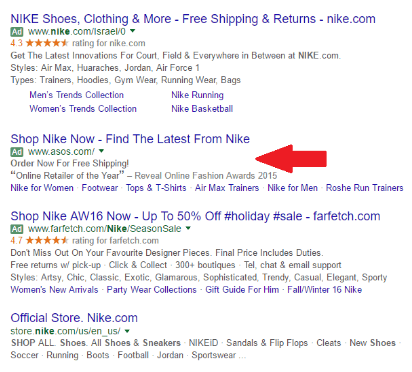 Since Google changed the way their search engines are displayed, these kinds of PPC campaigns are yielding good traffic numbers for the spend.
For Instant Results
While SEO builds brand authority, rank and value over time, PPC offers online stores instant, fast results. From the second your campaign goes live, you will see instantaneous traffic. This is ideal exposure for your site to push limited products, launch new products, gain traction for new stores, etc, making it the number one marketing avenue for eCommerce stores.
When You're New and Still Gaining SEO Traction
SEO takes time. If you are a newer store, chances are you won't have a content-rich website yet. PPC campaigns will allow you to be on top of the pile, stay relevant with search engines and generate short-term traffic while you are building your SEO value.
When To Use SEO
It's been stated that over half of all website traffic will come from search engines. The biggest of these is Google, which currently has a market share around 65% and millions of daily searches. SEO will ensure your site is part of this mega web traffic. So when is SEO a must?
Gaining Consistent Results
PPC offers a quick fix to get your online store on top of the search results. SEO is based on long-term and consistent planning. Dominating the first page of search engines will take perseverance, however, once your store has gained traction, will ensure steady , long-term traffic that will yield consistent results.
Increasing Website Authority
Creating authority within your niche builds trust in your online store. Becoming the go-to for information will enable you to drive a lot of traffic to your store over time and SEO is the key to this process. Building a reputation through sustainable traffic to relative content will make you an authority in your field and SEO optimized content will get you there.
Increasing Website Value
The amount of traffic your store gets, its overall search engine ranking , it's page-rank and link popularity all contribute to the overall value of your online store. This can help you up the price when/if you decide to sell or to show possible partners or contributors your worth.
How to Use SEO and PPC for the Best ROIs
By utilizing both SEO and PPC, you can build an instant presence at the top of the search results for your eCommerce store, while you build your organic listings in the background.
As I mentioned in the introduction of this post, if you use both methods simultaneously, you will be able to build a store brand while remaining front and centre in the eyes of potential online shoppers. The bottom line is this: just as PPC brings in instant traffic and converts sales, so too will SEO practices give your store authority, build trust and ensure not only traffic over time, but repeat business.
Ensure that your website is mobile optimized, fast and good quality. Eliminate 401 errors, make sure your site is user-friendly for the shopper and adhere to SEO technical rules. Invest in content marketing and build a blog and become the go-to within your store's niche. All this will not only help SEO and ensure long-term traffic, but help convert sales from your PPC campaigns.
While customised landing pages, product listing ads and clever PPC campaigns are a worthwhile investment, SEO can not be overlooked. You can run all the best PPC campaigns in the world, but if the traffic gets to your store and it's slow or not user-friendly or mobile responsive, they are less likely to buy - dropping your ROIs.
Another factor to consider is that if you're not running your campaigns correctly, you could be spending far more than you should be on your PPC campaigns.
The Conclusion?
You need both! The success of your business is reliant on traffic, and the point is, that together, SEO and PPC are the most powerful traffic driving, and keeping, approaches. While SEO requires more money to build, it doesn't require an ad budget. Also, you need to consider the constant changes that Google can make. While PPC offers immediate results, it can be very costly if not optimized correctly.
To win, the combination of SEO + PPC is your best method. It allows you to run immediate tests with PPC which gets you immediate results, and then you know which keywords you should invest with SEO -- which takes time to gain results. Studies have shown that running both, actually increases your overall pie -- we will elaborate on this topic in a different post so stay tuned.
Recommended articles