Dynamic Search Ads (DSA) Guide
Now that we've covered the full adwords guide, it's time to start tackling the different ppc campaign options adwords has - the first aspect we will be covering is dynamic search ads.

Dynamic Search Ads (DSA) are an intricate part of any eCommerce PPC campaign. They save marketers and business owners tons of time by eliminating the hassle of having to create ad text, bids and keyword map for every single one of their products, while allowing you to reach new markets more quickly. They also get much higher CTR (Click Through Rate) due to their larger and more targeted headline which you can not mimic with the regular search ads. There is no denying that dynamically-generated ads keep your search ads relevant and give you greater reach.
But are they for everyone? And how do you make the most of your DSAs to ensure more traffic and ultimately better ROIs? In this guide we will break down exactly what Dynamic Search Ads are, who should be using them, how to use them and benefits of adding them to your traffic-driving efforts. So sit back, take a sip of your coffee, and get ready for Dynamic Search Ads 101.
What are Dynamic Search Ads and How do They Work
DSAs are dynamic search ads that are automatically targeted to search queries by Google's web-crawling tech. The content and placement of the ads is matched to the search query and therefore helps fill in the gaps where traditional keyword-based search ads to give you a wider reach.
Based on the amount of content and the structure of your website, DSA matches your content or product pages to potential shoppers who are searching for what you are selling. Through Dynamic Search Ads you can either pull details from your whole website or specific product or content pages to target page titles, page URLs and certain words.
Once Google matches the search to DSA targets, it automatically generates the ad headline which matches the phrase that was entered into Google search to most relevant landing page URL. It is also important to note that DSAs allow for longer headlines which, along with content descriptions, improves visibility, Click Through Rate and in the long run bids.
Who Should Use Dynamic Search Ads
If you are a new store with very little web content and product lists, then Dynamic Search Ads are not for you, at least not in the early stages. eCommerce sites that are rich in content, with a wide variety of products and those offering a variety of deals and promotions, however, will benefit hugely from DSA.
To further help you determine if Dynamic Search Ads are for you, here are some pros and cons:
Pros of Dynamic Search Ads
Perfect PPC Partner
Used in conjunction with regular search ads, DSAs are a powerful feature. You can exclude search queries that work well for you in the dynamic ads, and add them to a regular static campaign. In other words, you'll have Google exploring more keywords for you through the dynamic while you check the bids you are able to achieve when you bid directly on the well-performing keywords you extracted from the dynamic ads.
Automatic Updates
When you make changes to your website, your DSA campaigns will be automatically updated. This is because Google's web-crawling technology recognizes when a change has been made and then adjusts ads dynamically.
Keyword Coverage
Managing keywords and targeted phrases is a full-time job, and even then you cannot be sure you have absolute keyword coverage. One of the biggest pros of DSAs is that they enable you to fill in the gaps that will inevitably happen in your keyword coverage, therefore increasing chances of missing out on highly-relevant traffic.
Time Efficiency
As we discussed, DSAs are based on web content, not keyword selection. This means that Dynamic Search Ads allow you to spend less time managing large keyword and phrase lets, and spend more time optimizing your campaigns for the best ROIs.
Targeted Ads
Dynamic Search redirect the user of each ad to the most relevant product page within your web store. So the match is complete: Keyword→ Ad→ Landing page
Extended Headlines
The last pro to consider is the length of DSA headlines. This may seem like the least significant benefit, but it helps more than you know. Normal search has a limited headline length of up to 30 characters, which is not always enough space to woo potential shoppers to click-through. DSAs, however, have more headline length flexibility. This yields better CTR (Click Through Rate) and in turn lower CPC (Cost Per Click)
Cons of Dynamic Search Ads
There are three drawbacks to using Dynamic Search Ads. The first one, as we mentioned earlier, is if you don't have enough content you're less likely to be featured and therefore less likely to benefit from the ROIs Dynamic has to offer. The second is you'll have to relinquish a little control and have faith in Google's algorithms and web-crawling technology. The third one, you will have to keep on monitoring and optimizing the account as Google will be spreading a wide net and you will need to narrow it down into what would turn out to be working well for you
If you've decided that DSAs are for you, it's time to get stuck into how you can get started.
First, Optimize Your Website
Before you can create a DSA campaign, you're going to have to do an honest audit of your website. The quality of your site is vitally important here, and Google stresses this point in their DSA help pages. Here is their list of what you should do before you create your first Dynamic Search Ad:
Make sure your metadata is top-notch and up-to-date
Make sure all relevant pages are accessible
Make sure your website is user-friendly and easy to navigate
Make sure your site is fully mobile-optimized
Here's a quick Google guide on how to build a website that delivers results:
How to Create Dynamic Search Ads
Step 1:
Sign in to your AdWords account, click on the Campaigns tab and select Search Network Only from the '+' campaign drop-down menu.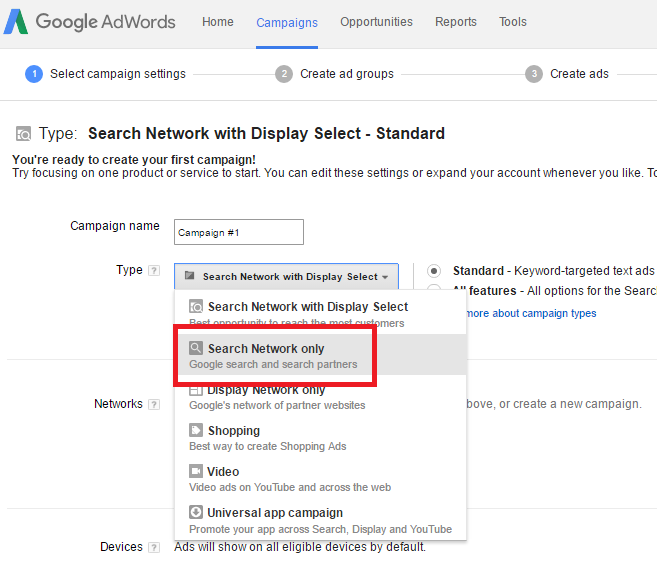 Step 2:
Next, select Dynamic Search Ads, followed by entering your domain URL and the language of your pages.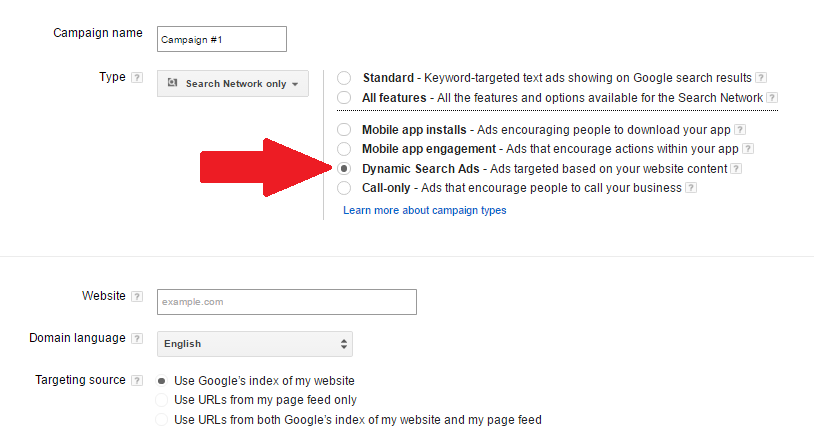 Step 3:
The next step will be to input your targeting preferences. You have two DSA targeting options: first is to base them on Google's index of your website or to upload page feeds via a spreadsheet. For beginners, we recommend using Google's index to start with.

Step 4:
If you want to target specific geographic locations, the next step is to click on advanced location options.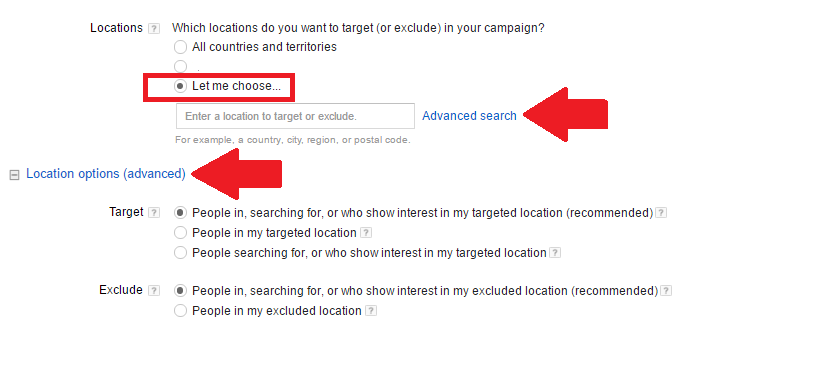 Step 5:
Next, you will choose your bid strategy and input your default bid and budget before clicking the 'Save and Continue' button. It is recommended that you use target CPA and or enhanced CPC options.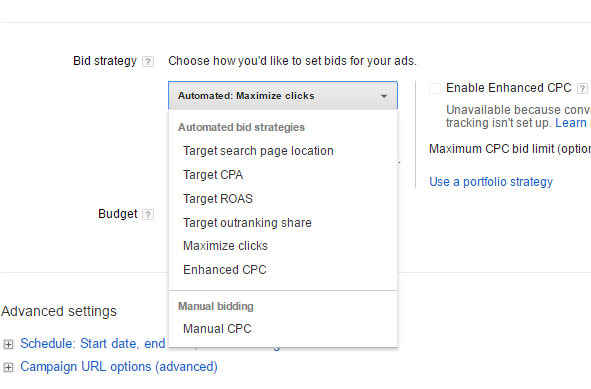 DSA bidding includes CPC bidding, eCPC bidding and Conversion Optimizer, and choosing between them will depend on your specific store and business goals.
How to Create Dynamic Search Ad Groups
First the easy part. Once you've created an ad and clicked 'Save and Continue,' you'll be taken to the Ad Group creation page. The best way to tackle DSA Ad Groups is to create them based on the structure of your online store. For example, if you're an online shoe store, try to create separate ad groups for each shoe category on your website. The better segmentation you have, the more relevant your ads will be. Here's how:
Step 1:
The first thing you'll need to do after naming your group is to choose targeting options. You will see 'target by categories recommended' is set, and you will need to add targets for the entire website or specific URLs to your DSA targets column. As we mentioned, segmentation is key, and to avoid a one-shoe-fits-all marketing approach, split ad groups into the categories of your website by selecting specific pages. Under advanced settings you're able to use URL constraint or rules to limit targeting to specific URLs with specific text.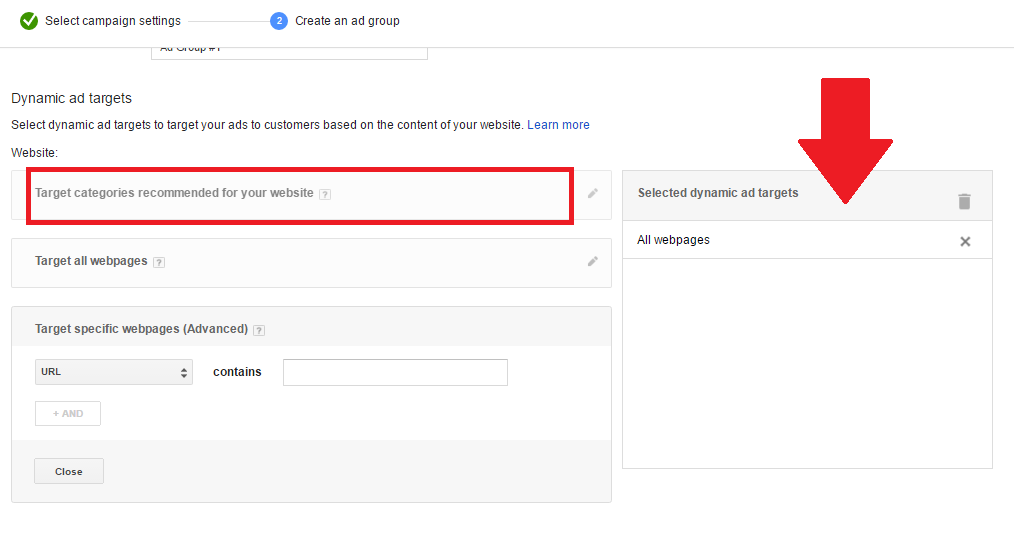 Step 2:
Once you've selected targets, it's time to create your ad where you will input your description. Remember, the headline will be automatically generated based on the specific user's search query. The description you type in should be relevant to the entire store/category you are advertising. You'll also be able to track your ad groups performance if you've set up tracking.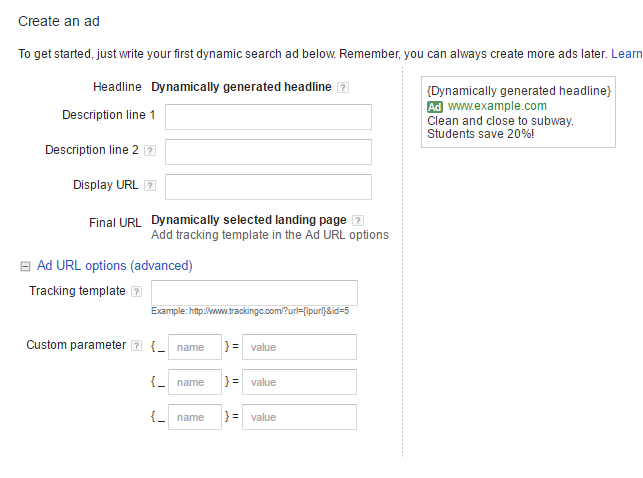 How to Create More or Edit Dynamic Search Ads
Now that you've set up your first ad group, here's a quick cheat sheet on how to add more DSAs to your Ad Groups and how to edit all your DSAs in bulk.
Creating More Ads
From the ad group you created for your DSA campaign, click on the 'Ads' tab
Click on the '+ Ad' button
Add additional text and tracking information
Click 'Save Ad'
Creating Bulk Ads
From the 'Campaigns' tab, click on 'Ads'
Use the checkboxes never to each ad to select the ads you wish to edit
Select the 'Edit' menu and then 'Change text ads'
A dialogue box will open asking if you would like to make changes that apply to all selected ads. Make sure you select 'Duplicate selected text ads and set text in duplicates'.
Click 'Make Changes'
How to Optimize Dynamic Search Ads
There are three main things you need to consider when you're thinking DSA optimization.
Add Negative Keywords
Like any AdWords campaign, negative keywords have a crucial optimization role to perform. By adding negative keywords and irrelevant terms, you can properly direct more relevant traffic to your site. Exclude as many generic terms as you can think of, to avoid bidding and paying for those terms that do not bring you traffic.

Add Target Exclusions
By adding Target Exclusions you will have more control over your DSAs and these can be based on page content, page titles, URLS or categories. This way you can pick the pages that convert more or exclude pages like the 'About Page' and therefore drive more targeted traffic to convert more sales. You can also exclude using phrases such 'Sold Out' or 'Out of Stock', so when you are out of stock and mention it on that product page, Google will automatically exclude those stock pages. This is a very handy automation tool that can save you a lot of ad management time.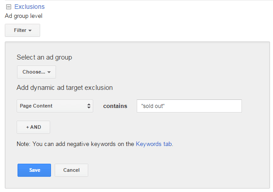 Remarketing Lists
Like all search campaigns, DSAs let you target or bid on remarketing audiences specifically. By implementing a custom remarketing code you can create Dynamic Search Ads which showcase products pages to previous visitors.
--
For more on optimizing across all types of AdWords campaigns, this video will talk you through choosing the most relevant advertising method, designing the most effective campaign structure, conducting Keyword research, adding negative keywords, setting up bids for each ad group and more.
Recommended articles