7 Google Ads Copy Tips to Get More Clicks
Your copy can make or break your AdWords campaigns. In this guide we will take your through the top 7 Google Ads copy tips that will ensure you get the most clicks for your buck.
AdWords Copy Tip 1: Make Your Point Early On
With Google Ads, space is not your friend. You have limited characters to get your point across and make those potential shoppers click through to your store. Therefore the first thing you will want to ensure with your AdWords titles and descriptions is that you'll want to make your point as quickly as possible. You can have the best copy in the world, but if you wait too long to reach their pain point you're going to run out of space and your message will be lost. The fix? Getting to your point as quickly as possible and forget all the unnecessary words.
Let's say you're an online clothing store selling affordable coats. If someone is searching for 'cheap winter coats' then they will be looking for price points in your AdWords search ad copy. You'll want to make sure you highlight your affordability/cheapness/discounts as early on as possible. You also want to include things that make your jackets affordable such as 'free shipping, '70% off' or 'starting from $X.'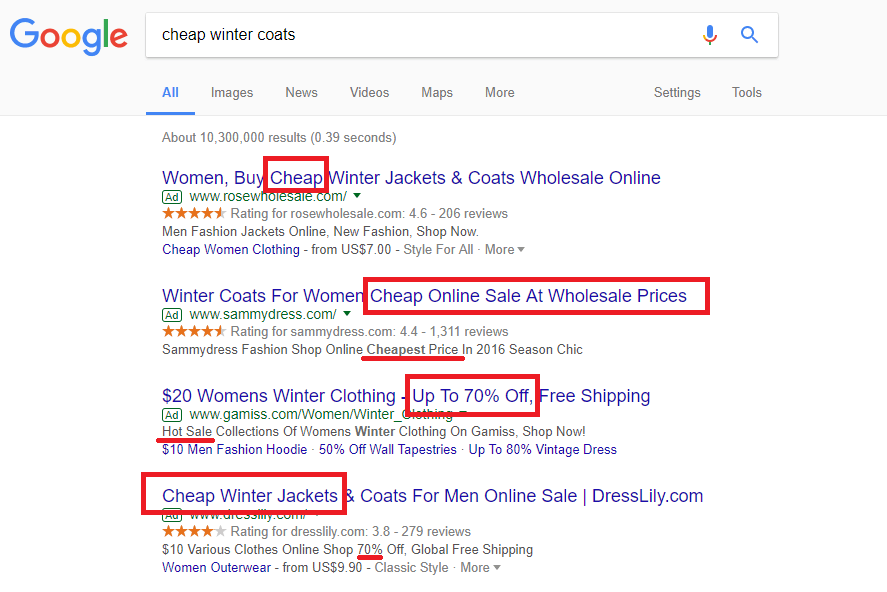 Here's google's breakdown of adwords ad sections and character limits: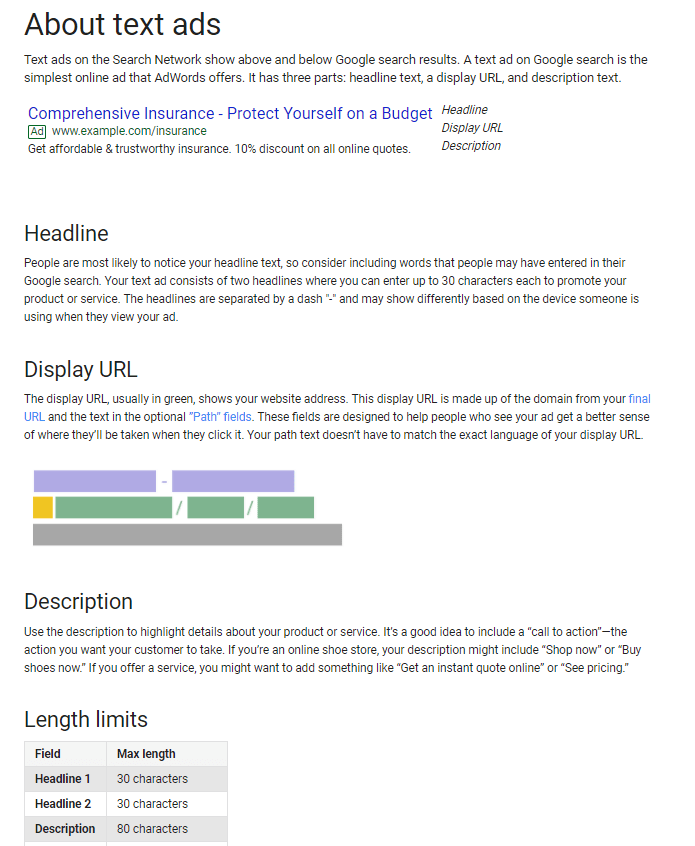 AdWords Copy Tip 2: Get Clicks with Power Words
Next, you'll want to make sure your titles and/or descriptions include power words that help you get more more clicks. Power words are what we in the copy game call words that trigger emotion and elicit curiosity and therefore clicks. Words such as: opportunity, sale, free, try, exclusive, get, now, best, affordable, etc. Including these small but powerful words is a sure way of getting more clicks with your SERP (search engine results page) ads.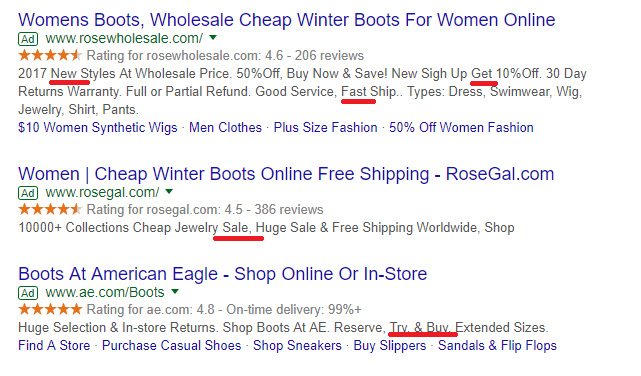 Here's a list of popular AdWords power words to get your creative juices flowing:
Accelerate
Enhance
Obtain
Achieve
Extend
Offer Ends Soon
Avoid
Faster
Potent
Beat
Final
Powerful
Best
Find
Prevent
Best Buy
Free
Price Cut
Boost
Free Sample
Prime
Build
Gain
Profit
Buy
Generate
Provide
Buy and Get
Genuine
Quick
Buy Now
Get
Raw
Buy Today and Save 70%
Great
Reduce
Buy-today
Guarantee
Refinance
Care
Hurry
Retire
Cash
Improve
Sale
Certified
Increase
Sale
Change
Join
Sale Ends Tomorrow
Cheap
Last
Save
Complimentary
Last Chance
Say
Create
Learn
Score
Cut
Leverage
Seize
Cut
Limited Time
Show
Decrease
Lower Prices
Smash
Develop
Lowest
Take Advantage
Discount
Lowest Price
Tell
Discover
Make _ Per Week
The Best
Discover Your Potential
Make Money Now
Try
Don't
Marked Down
Ultimate
Donate
Money Off
Uncover
Download Free Trial
Most
Vital
Drive
Most Comprehensive
Want
Easy
New
Wider Variety
Eliminate
Now is Your Chance
You Should
AdWords Copy Tip 3: Tap into Emotions with Triggers
As we mentioned above, emotional triggers are super important when crafting your AdWords ad text to ensure you get those clicks. This is not just about using power words, but ensuring your whole ad -titles and descriptions included -, triggers shoppers' emotional impulse to click to your store. You can do this by ensuring your text does things like appeal to those shoppers who don't want to feel left out by creating urgency, or appeal to emotions such as humor or intrigue, creating curiosity.
To do this, you'll want to tap into the emotions of your potential shopper using copy triggers to enforce it and get the ad clicks you want. How do you tap into the emotions of your shopper? By highlighting the benefits - not the features - of the products you are selling. Benefits address pain points, express product value, alleviate possible fear and elicit emotions needed to get those clicks.
AdWords Copy Tip 4: Don't Forget Your CTAs (Call to Actions)
You may be short on space, but like with any marketing you do, without a CTA your text won't be effective enough to get those clicks. The trick to a good CTA is that it is clear, to the point (we don't have a lot of space, remember) and includes action. It can be anything from 'Buy Now' or 'Click for Discounts' to entice clicks and create urgency or as creative as 'Read Our Best Reviews Now."
It all depends on what URL you're pointing to. You wouldn't have a 'Sign Up Now to Save' CTA if you were not redirecting the browser to a sign-up landing page. Take a look at these three AdWords SERP ads displaying straightforward CTA when I searched "affordable car rental."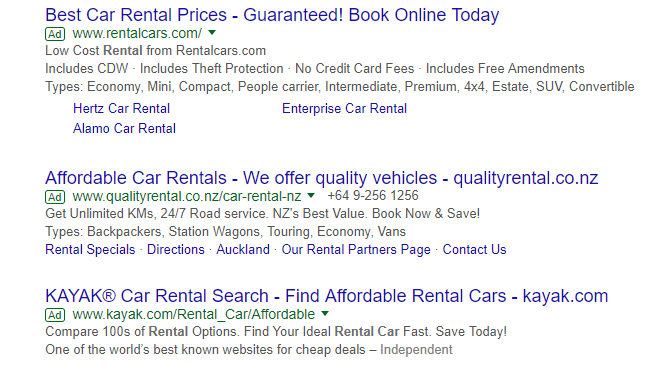 All three have similar CTAs which are:
Ad 1: Book Online Today
Ad 2: Book Now & Save
Ad 3: Save Today!
But it's ad 2 whose CTA stands out for me. Its "Book Now & Save" creates urgency while implying that booking is quick and if you do it now, you will save. Here's another example of two AdWords Serp ads that show up when I search for cupcakes in New York.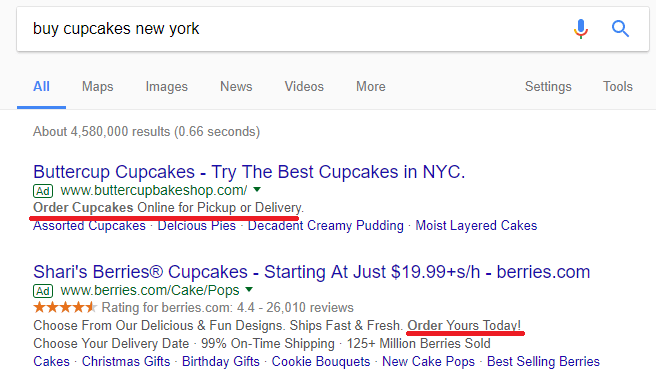 The first ad's CTA is, "Order Cupcakes Online for Pickup or Delivery", while the second ad actually has two, the "Order Yours Today!" which is easy to spot and, less noticeable, "Choose From Our Delicious & Fun Designs."
Here is a good list of words that make good building blocks for CTA's to help get your started:
Access
Checkout
Double
Form
Make
Produce
Run
Tap
Acquire
Click
Download
Gain
Manage
Program
Rush
Test
Act
Collect
Drop
Gather
Master
Purchase
Satisfy
Think
Activate
Come
Earn
Get
Maximize
Put
Save
Tour
Add
Compare
Ease
Give
Nab
Qualify
Score
Trade
Apply
Compile
Edge
Go
Navigate
Quit
Seal
Train
Attain
Connect
Elevate
Grab
Obtain
Rate
Search
Trave
Attend
Consult
Eliminate
Grasp
Open
Read
Secure
Treat
Be
Contact
Email
Guide
Opt
Realize
See
Triple
Beat
Create
Engage
Haul
Order
Receive
Seize
Try
Begin
Customize
Enhance
Heighten
Overhaul
Recognize
Select
Turn
Beware
Decide
Enlist
Help
Own
Recruit
Send
Uncover
Book
Decrease
Enrich
Imagine
Package
Redeem
Share
Unleash
Boost
Deliver
Enroll
Improve
Pay
Reduce
Shop
Unveil
Brighten
Design
Ensure
Increase
Perform
Refine
Sign
Unwind
Bring
Develop
Enter
Insure
Visit
Register
Sort
Update
Broade
Diagnose
Entertain
Join
Pinpoint
Renew
Speak
Upgrade
Browse
Discover
Escape
Keep
Place
Repair
Start
Use
Build
Do
Exceed
Learn
Plan
Report
Stop
Verify
Buy
Dominate
Expand
Let
Plunge
Request
Submit
View
Call
Don't
Expose
Lift
Pocket
Research
Subscribe
Watch
Catch
Discover
Feel
Lighten
Polish
Reserve
Support
Write
Cater
Do
Find
Limit
Prevent
Revamp
Take
Yield
Check
Dominate
Flaunt
Locate
Prevent
Review
Talk
Zip
Don't
Look
Rock
Some CTA's you could make from these are: Don't Delay. Try Now. Earn VIP Points. Search Best [Products] Now… Just to name a very few.
AdWords Copy Tip 5: Add Stats and Numbers to Headlines
As we said, less is more when it comes to AdWords copy, and headline stats and numbers are a good way of making a clear point, quickly and effectively. To show you just how effective, here is a great eCommerce AdWords copy example.

This online store uses numbers throughout their ad and in their headline. At a quick glance I can see that I can save 50% while enjoying fast delivery. They also show their lowest price, have recommendations and a good CTA: "Order Now!" This is a highly effective ad. By listing the price they are showing just how affordable they are in a simple, no-mess no-fuss way.
Not only does it make it easy to see at first glance what is being offered and for how much, but by being straightforward and upfront it gives an extra level of trust to a potential shopper who hasn't bought from you before and therefore a higher chance of a click.
AdWords Copy Tip 6: Make Sure Your URLs are Keyword Rich and Unique
URLs matter more than you think and it is often a novice mistake to overlook just how much sway they have on how many clicks you get. URLs are the second thing a searcher will see after the headline, and they should not only include one of your prime keywords but also give you that added push. The URL is essentially part of your ad and therefore part of your ad copy.
The biggest advantage of having keywords in your destination URLs is that even if you are not bidding on that specific keyword, you have a chance of your ads showing regardless because of the words in your URL.
Here's an example of a good URL from Farfetch. It's clear and has their keywords 'Nike' and 'Sale' in their URL.

AdWords Copy Tip 7: Test, Test, Test!
And last, but NOT least: Test, test, test! Testing your ads is the key to marketing success and Adwords copy is no different. Test between headlines, offers, keywords, URLs, CTAs. Test until you have that winning, converting, combination. This is very helpful if you have a low performing ad where you want to check how one change affects your clicks or if you want to compare and narrow down two headline options, for example, before launching new search ads to make sure you choose the copy that brings in the most clicks!
--
There you have it, 7 Google Ads copy tips for more clicks. Want to take the hassle out of AdWords optimization? Try our traffic booster today!
Recommended articles